Mr. Bojangles

Bojangles is a fast food restaurant specializing in fried chicken. In 1993, there was a franchise located at 1551 N. Missouri, three quarters mile directly west along the bayou diversion channel where the bicycles were found.

At 8:40 pm on the night of the children's disappearance, the West Memphis police received a call from Marty King, the manager of Bojangles. The notes from the police log read: "Bojangles - B/M - towards Delta - bleeding - WW/cap - blue shirt - blk. pants - cast R arm" The call went to Officer Regenia Meek.

As Marty King explained, a black male, muddy, disoriented and bleeding had lodged in the women's restroom. There was blood and feces on the floor, stall and walls. A toilet paper roll was soaked to the core with blood.

Officer Meek arrived on scene at 8:50 pm. She didn't enter the establishment instead pulling up to the drive-through window. She was informed that the bleeding man had left. According to court testimony, Officer Meek spent the next few minutes searching for him. At 9:01 pm, she got a call. Someone was egging a house. (From later notes, it was one egg.) Officer Meek responded.

The busy Officer Meek (8 pm and after)
8:08

call dispatched to Meek: "1400 E. Barton [Byers residence] - missing juvenile."

8:08 On scene at Byers residence.

8:29, back in service.

8:29 - 8:42. Searched for the children. Cruised the area and talked to several people (from court testimony)

8:42 call dispatched to Meek: "Bojangles - black male - towards Delta - bleeding."

8:44 call from Meek: "Illinois license plate - 397501."

8:45 back in service from license plate call.

8:50 on scene at Bojangles. Takes information at drive thru.

(After 8:50 until 9:00pm.) After taking info on Bojangles, she searches for him.

9:00 back in service from Bojangles call.

9:01 call dispatched to Meek: "1004 Roy Pugh - egged house."

9:04 on scene at house egging.

9:18 back in service from house egging.

9:24 statement taken from Dana Moore at her house, 1398 E. Barton, no police log.

9:25 statement taken from Pamela and Terry Hobbs at Catfish Island, 7th and Interstate, Regenia Meek, filled out portions of the report and was cosignor, not in police log or testimony.

9:34 call dispatched to Meek: "1101 N. Ingram - truck liquor business"

9:37/9:39, on scene at liquor business.

9:44, back in service from liquor business call.

9:44-10:28. From court testimony, searching for children. Not in police log.

10:28 call dispatched to Meek: "500 bl Parkway - loud music." No on scene time.

10:30, back in service from loud music call.

10:30-11:15. From court testimony, searched for children. Not in police log.

11:15 Shift over.
Across the street and a few doors up from the Bojangles there is a Bonanza restaurant. The police logs have two officers taking a dinner break there: from 7:38 pm to 7:57 pm, Officer Billy Covington; and, from 8:23 pm to 8:57 pm, Officer Bruce Joiner. The latter overlaps with the time of the Bojangles call, however the Bojangles man had been there for a time before the call.

The next day Officer Covington was speaking casually to the manager of Bojangles and, in light of the murders, requested that this be followed-up. (Covington was off-duty, in fact, he is the only evening shift officer on duty the fifth of day who is not listed for the sixth of May.)

The police notes for the May 6th visit to the Bojangles restaurant:


5/6/93 Received call to go to Bo-Jangles + talk to the Manager.
5/6/93 9:00 P.M. Det. Sgt. Allen + Det. Ridge went to Bo-Jangles + talked with the manager, a Marty King [address and phone redacted]. Marty King related that they had a Black / male on 5/5/93 Between 9:00 - 9:30 PM that a Black / male was found the ladies bathroom bleeding from the arm. the Manager stated that the black man was 5-11, thin dirty, late 20's, pair of sunglasses were left in toilet suspected by Black / male. Subject had a blue cast type brace on his arm that had white Velcro on it. the Black male appeared to be mental / + disorentated (Not intoxicated or under influence of drugs) Police were called Subject left out on foot + Walked East toward the back dumpster then [inserted here: Black males clothing was denim sleeveless shirt, Black shoes, look like tennis shoes. Black thin warm up pants.] came back out to Missouri + walked torward Delta Service Station.
Det. Ridge took blood scrapings from North Wall inside women's bathroom above toliet, took blood scrapings from inside of door to women's bathroom + Entrance hall to bathroom From Sitting Area at Bojangles. [signed] Mike Allen

Bojangles description (summary from police log notes and 5/6 report):

Late 20's.

5'11

Thin

Blue cast with white Velcro on his right arm.

Blue denim sleeveless shirt

Black shoes

Black thin warm up pants.

Disoriented, bleeding.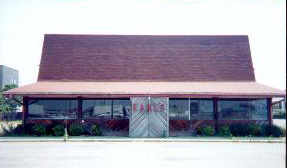 The Bojangles restaurant became an "Earls,"
now a Mrs. Winners.
Marty King described the Bojangles man as having mud on his pants similar to the way the two officers had mud on their pants -- and this was after the officers had been in the ditch with the victims.

Was there a second sighting of the Bojangles man? During the door to door interviews there was this comment from a neighbor on Wilson:

"Bill H. - saw nothing but said we need to talk to Mrs. C. 735-xxxx. She works for Schneider Truck Lines evening shift. She said a driver saw a man with blood all over him Wed night."

Three trucks from Schneider National visited the Blue Beacon Truck Wash after 7 pm on Wednesday.

The West Memphis police looked at two suspects as possibly being the elusive Mr. Bojangles, although this was six or more weeks after the crime. From police notes (misspellings intact):


6/24/93 Talked with a Larry Ceasar who has been known in the past to of worn a brace on his right arm, from an injury (gunshot wound) to shoulder. Larry Ceaser fits the general description of that given by the Bojagles manager of a B/M that came into Bojagles on 05/05/93 with the exception that Larry Ceaser has a full beard & is known to this investigator as always wearing a beard. Larry Ceaser was asked about wearing an arm brace during the month of May. Larry Ceaser who has a crippled right arm stated he hadn't worn a arm brace since back around Thanksgiven, this was verified in reference to arm brace by Otis Ceaser, & Robert Ceaser, brother of Larry Ceasers. the radio log on May 5, 1993, reflected that Paul Shrader unit #271 at 2:41 P.M. checked Larry Ceaser, radio log reflected #271 Sharder was in the South East Part of West Memphis, Larry Ceaser stated he remembed the white police checking him last month & they checked him in front of the police substation in the Project. Larry Ceasers denies every being at Bojangles on MO Street. [signed] Michael W. Allen
06/28/93 Michael Scott 301 S. 20th B/M was talked to by Sgt. Mike Allen. Michael Scott had on his arm a permanent cast on his right arm & a cast on his left arm. Hasn't had a temporary brace blue in color with velcro white stripes. Has had cast on right arm plaster white prior to May 5th 1993 & received injury to left arm May 16th 1993. (Police report on File) Denies being at Bojangles ever. (Manager of Bojangles stated the Black Male was somewhat mentally ill & that brace was not plaster but Blue Material type with White Velcro stripes.) As of 6/28/93 the black male described at Bojangle's hadn't been identified. [signed] Mike Allen

Marty King testified that he had never been approached by the police again regarding this incident. The blood samples taken by the police were declared lost.

Was Mr. Bojangles involved in the murders of the children? Perhaps the most salient facts about him were that even though he was bleeding and disoriented, he did not seek assistance. He did not come forward later to explain his actions, in spite of his notoriety. It appears as though he was avoiding authorities, perhaps his injuries were related to criminal activity, perhaps he had an active warrant for his arrest.

It is rightly pointed out that Mr. Bojangles could not have likely have been a sole perpetrator or could have walked all the way bleeding and disoriented from the Blue Beacon area without leaving more of a trail of blood. This consideration has the Blue Beacon woods as the site of the murders. Perhaps the murders took place in a location nearer to the Bojangles restaurant. Perhaps Bojangles had a falling out and fight with the other perpetrators. Or, quite possibly, this event was anomalous and had nothing to do with the murders. All of this remains as speculation, as the mystery of Bojangles has never been solved.

The murder of Stephanie Crowe in Escondido, California has a number of eerie similarities with the West Memphis murders. In this case, the teenaged brother "confessed" and implicated two of his teenaged friends. The occult was blamed. In the Crowe case, however, the police kept an evidence sample from a local disoriented transient, a bloody piece of clothing, and just before the trial of the teenagers, the blood was matched to the victim's DNA. The transient has since been convicted of the murders. Because of the lost Bojangles evidence, this can never be done for the West Memphis murders.