"When asked about Jason Baldwin he [Damien Echols] described a Jason Baldwin that lived in West [Memphis] that was not his friend Jason Baldwin. He claimed that the other was mean and that he had been known to kill snakes which he claimed was just for the "hell" of killing. This Jason was described as being about 5'9" tall, 18 years old, and 300 pounds. [snip, several paragraphs to next mention of Jason] It was noted that Damien had the tatoo of "E", "V", "I", and "L" across his left knuckles and he stated that Jason Baldwin had the same tatoo on his knuckles."

Damien Echols, police notes, Det. Ridge, 5/10/93

"My brother never had the word evil tattooed on his hands anywhere. "

Matthew Baldwin, brother of Charles Jason Baldwin.

The Other Jason Baldwin
There were two Jason Baldwins whose names appeared during the investigation. Sometimes it is difficult to determine whom was being referred to at any given moment. To prevent confusion here, each will be referred to by his full name.

Their sizes made for a striking contrast. Charles Jason Baldwin, arrested for the murders, was 5' 8" and 112 lbs. Jason Howard Baldwin was also 5'8" but was described as close to 300 lbs.

Charles Jason Baldwin lived on Lakeshore in Marion, Arkansas. Jason Howard Baldwin lived in West Memphis in the victims neighborhood, on Johnson Street near where it intersected with Barton.

Before being arrested for triple murder, Charles Jason Baldwin had a record of breaking into a garage where they had derelict cars and damaging those cars. He also had a separate arrest for shoplifting $6.38 worth of candy. Jason Howard Baldwin had been arrested in 1992 for possession of marijuana and fleeing a gasoline station without paying. Jason Howard Baldwin would go on to be arrested for aggravated robbery, theft of property and robbery (Memphis, 1995), theft (Crittenden County 1996), and theft, revocation of parole (2005).

Jason Howard Baldwin's uncle, Louis Larry Baldwin III, was a sex offender who was brought in for questioning. He was on parole at the time for the aggravated rape of his two daughters. When asked about the evening of the fifth, he said he probably would have been at his home in Memphis (his family was in Texas at the time). He was brought in for a polygraph on July 2, 1993, a month after the arrests of three. Detective Bill Durham affirmed "It is the opinion of this polygraph examiner that this subject recorded no significant responses which would be indicative of deception. . ."




Louis Larry Baldwin III - scheduled for polygraph

The two Baldwins were confused one for the other in the police notes. Although in the above excerpt Damien Echols made clear he was referring to the "big" Jason Baldwin, the police notes on his questionnaire were ambiguous. In response to question 6, who Echols believed may have committed the crimes, the answer read: "Jason Baldwin could have. LG Hollingsworth." This document was then used by Baldwin's lawyer to argue for a severance.
Ford: I would also like to mark as Defendant's Exhibit Four a copy that was provided to me in discovery that is an interview that was conducted with the defendant Echols. The first page is the questions they were asked and the next pages reflect the answers that they gave. If you look at number six, it said, "Do you know who did this?" Turn to the next page. Answer: "Jason Baldwin could have. L.G. Hollingsworth." It is my contention, your Honor, that is an out-of-court statement that implicates my client that entitles me to request a severance and requires the prosecutor to elect what his actions will be. [Transcript. February 9, 1994 hearing.]
This was then reported in and out of context by the media. Bartholomew Sullivan of the Commercial Appeal wrote:
Five days after the murders of three West Memphis boys last May, Damien Wayne Echols told police that a Jason Baldwin "could have" been involved.

That revelation Wednesday by Charles Jason Baldwin's attorney Paul N. Ford was introduced in an effort to gain a separate trial for Baldwin, who is scheduled to stand trial with Echols for capital murder Feb. 22 in Jonesboro.

But Deputy Prosecuting Atty. John N. Fogleman said police officers' notes taken during the interview indicate Echols was referring to another Jason Baldwin - someone who weighs 280 pounds - and not to Ford's diminutive 16- year-old client. [Memphis Commercial Appeal, 2/10/1994]
In another story in the Commercial Appeal, reporter Marc Perrusquia did not make the distinction.
Then on Wednesday, at the hearing, Baldwin attorney Paul N. Ford revealed [LG] Hollingsworth's name while reading notes of a police interview with Echols just days after the murders. According to the notes, Echols told police two people ''could have'' been involved in the murders: Baldwin and Hollingsworth. [ibid, 2/10/1994]
The article in the Arkansas Democrat Gazette also did not make the distinction.
Baldwin's attorney, Paul N. Ford of West Memphis, argued at a pretrial hearing Wednesday that the two teen-agers should be tried separately because Echols told West Memphis police on May 10, 1993 that Baldwin could have killed three 8-year-old West Memphis boys five days earlier. [ADG, 2/12/1994]
The two names being the same may have also confused those searching for the cult. Steve Jones, Charles Jason Baldwin's parole officer and the discoverer of the victims' bodies, wrote to the police of a conversation he had with Garrett Schwarting.
Garrett Swording also talked about Nearns belonging to a cult where they were sacrificing cats and that Jessie Miskelly and Jason Baldwin were also members in this group. [Steve Jones, notes to the police.]
However, Jerry Nearns was a friend of Jason Howard Baldwin. "Jason Baldwin 18-19 Friend lived on Johnson. [Nearns, May 19 notes, Det. Ridge]" In contrast, the notes from Gitchell's notes regarding Nearns merely mentions Jason Baldwin and does not distinguish between the two.

Nearns was considered a significant suspect and was among seven included in a photo lineup shown to a child friend of the victims.
On 06/02/93, a photo spread was formed from a few of the pictures that had been taken of possible suspects in this case that were to be shown to Aaron Hutcheson. The photos consisted of seven white males that included Frankie Knight, Jerry Nearns, Murray Farris, L.G. Hollingsworth, Tracy Laxton, James K. Martin, and Michael Leiter. [The three who were arrested the next day were conspicuously absent.]
Aaron Hutcheson report, 6/2/93, Det. Ridge
Also counted among Nearns's friends was Robert Burch. Robert Burch was familiar with both Jason Baldwins, however, according to his police notes he was closer to Jason Howard Baldwin. "Close friends, see every day: ...Jason Baldwin, Johnson [Street], not the one who lives on Lakeshore. [Robert Burch, 5/15/93, notes, Det. Allen.] " Burch was also arrested with Jason Howard Baldwin for stealing gasoline and possession of marijuana. In spite of his central place to many key characters in the investigation, the only note in the police file of Jason Howard Baldwin was his arrest report.

Robert Burch along with Jason Baldwin were identified by Victoria Hutcheson as being members of the cult. She testified as to having visited a cult meeting. (It should be noted she later recanted this testimony and in general has given several different versions of events.) She made these comments about Jason Baldwin in her May 28, 1993 interview.
Ridge: The one you call Jason, how old is he?
Vickie: Probably 15.
Ridge: Okay. How tall is he?
Vickie: He's, I've never seen him.
Alvis Bly claimed to have been a member of the cult. From the transcript of his June 29, 1993 interview with Detective Mike Allen:
Det. Allen: Okay, um, name some of the people that participated in this?
Bly: I can't remember for 1 minute to the other (inaudible) I would say it was Jason (inaudible) Baldwin then uh, Misskelley
This inaudible could be significant. Jason Howard Baldwin did have a name between Jason and Baldwin while Charles Jason Baldwin did not. Further complicating Bly's statement is his difficulty in remembering and sorting out names along with a tortuous and ambiguous identification of Baldwin. I present a long section of his interview below for your interpretation. It seems as though he never identifies Baldwin by his photo, as evidenced by his repeatedly being asked to do this. There could be several possible reasons for that. One, is his obvious confusion with names. Another could be the Baldwin he knew was not among the photos.
Det. Allen: Okay, anyone else? You said uh Baldwin
Bly: Yes sir, he they call him Davien.
Det. Allen: They called who Damien?
Bly: Baldwin
Det. Allen: Okay, they called Baldwin Damien?
Bly: I'm pretty sure it was him.
Det. Allen: Okay, let me uh, I've I got a newspaper here.
Bly: Yes sir.
Det. Allen: It's got Jessie Misskelley
Bly: yes sir
Det. Allen: and Jason Baldwin's picture here? Okay is this the one they call Damien?
Bly: No sir.
Det. Allen: That's, I'm pointing to Jason Baldwin?
Bly: I see, that's.... that's not Davien, the other boy was Davien, I don't see him on th... there he is that's Davien there.
Det. Allen: Okay, that's the one they call Damien there?
Bly: yes sir
Det. Allen: Davien, what ever you know him as
Bly: Davien that's devil name
Det. Allen: Okay, and this is the person you know as Baldwin?
Bly: yes sir
Det. Allen: Point to a picture of Jason Baldwin and this person here is do you recognize him?
Bly: He's the leader, Misskelley is
Det. Allen: Okay, um,
Bly: All I know is Jason or Jes or Jessie something like that [Alvis Clem Bly interview, June 28, 1993]
Jessie Misskelley, Jr. began his interview with the police by stating that he had heard that Damien Echols and Robert Burch had killed the children. Hours later, he confessed to his part in the murders, also naming Damien Echols and Jason Baldwin.
Is it possible that Misskelley was referring to Jason Howard Baldwin? Although in interviews with others, the police took explicit steps to distinguish between the two, in Misskelley's case there was no such clarification. This possibility does not mean Misskelley gave a true confession, only that in the statement he gave when he said Jason Baldwin, he was referring to Jason Howard Baldwin. Certainly, the larger Jason Howard Baldwin strikes a more formidable image of someone who could contain three children during a murder spree. Misskelley's confession had Jason Baldwin as the more violent of the perpetrators: Baldwin was said to be the only one with a knife. Why then wouldn't Misskelley simply clear this matter up? Having said he made a false confession, it would have been a complex matter to say "I made it up, but I made it up about someone else."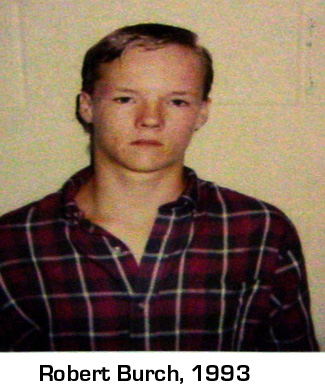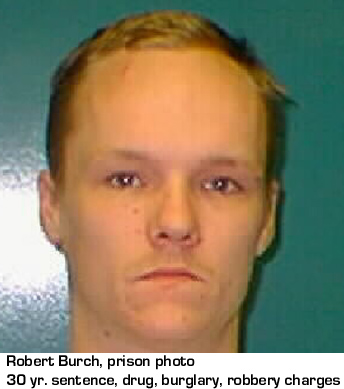 And to further clear up matters:

Stephen Baldwin: THE USUAL SUSPECTS
William Baldwin: BACKDRAFT
Alec Baldwin: HUNT FOR RED OCTOBER, 30 ROCK
Daniel Baldwin: HOMICIDE: Life on the Street
Adam Baldwin (no relation to above): SERENITY