Jivepuppi.com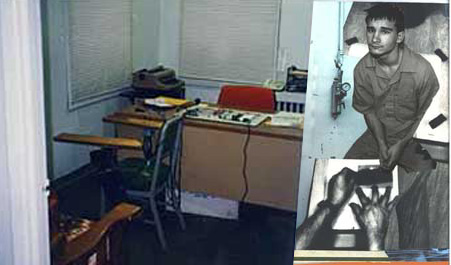 The West Memphis polygraph room and Misskelley. Other elements are parts of a collage.
Misskelley's Many Confessions

Jessie Misskelley, Jr. was 17 years old in 1993. In his police subject description sheets he is listed as 5 foot 1 or 2 and 120 to 125 lbs. In spite of his small size, he had dreams of pro-wrestling and often got together with friends for ad-hoc wrestling matches. Steve Branch's grandfather, Jackie Hicks, who had been a pro-wrestler, was derisive of these aspirations. ''It's a joke. It's an insult to wrestling for anyone as little as him to call himself a wrestler.'' [Commercial Appeal, February 6, 1994]

Jessie had regular problems in school, having to repeat years and by age 11, he was only in the third grade. During the 9th grade he would drop out. The book Devil's Knot documents IQ exams given to him over the years. His scores were reported as 67 and 75 and 4th percentile [pp. 68-70, Devil's Knot]. To evaluate his competency for trial, Jessie took another test and scored 72, equivalent approximately to a third to fourth grade level [Dr. Wilkins testimony, November 16, 1993 hearing]

On June 3rd, 1993, Misskelley made the first of several confessions, implicating himself and Echols and Baldwin in the murders. These confessions were the turning point in the police investigation. Although Damien Echols had been a suspect from the very first, virtually nothing had appeared to link Misskelley or Baldwin to the crime. Within hours, Misskelley, Echols and Baldwin were arrested for the murders. After his June 3rd confessions, Jessie would soon claim his innocence - and he would soon confess again.

Detective Victoria Hutcheson

Prior to his confessions, Jessie's connection to the case paralleled the actions of Victoria Hutcheson, "Vickie," a self-anointed amateur detective who helped out the Marion Police. Misskelley was a close friend of Vickie. He frequently babysat her children. She described him as a helpful kid.

She would turn against him. She later lamented, "I loved Jessie with all my heart. And, uh, for them to pick him for me to testify against was just totally wrong." [Victoria Hutcheson statement, June 24, 2004]

Vickie's involvement in the case was extensive and complex. Beyond her detective work described below, she was a former neighbor of the victims having lived at 1502 E. Barton until a month before the murders. Her eight year old son, Aaron, was a close friend of Michael Moore and Chris Byers. Aaron would give repeated, contradictory and increasingly elaborate statements to the police regarding what he had seen at the time of the murders. Notes from his first statement say he saw Michael Moore picked up by a black man in a maroon car on the day of his disappearance. In contrast, in Vickie's initial statement, Aaron had stayed home with her that afternoon and evening. In later statements Aaron described being present at Satanic ceremonies, at the murders and being forced to participate in the murders. After the arrests he identified Echols, Misskelley and Baldwin as being the killers. Still later he said Mark Byers was involved.

"They sing about the devil and you know that we love the devil..." Vickie
conveying her eight-year-old son Aaron's description of a Satanic ceremony.
[Victoria Hutcheson statement, May 28, 1993]

At the time the victims were found, Vickie and Aaron Hutcheson were at the Marion police department. She was to be interviewed by Detective Donald Bray as a suspect in credit card fraud. The credit card fraud was pushed aside by the seriousness of the murders. Since Aaron was a good friend of the victims, Bray believed he might have some useful information. Bray also believed the crimes had a possible cult connection. With Bray's help Vickie was to launch her own investigation into the murders. Her investigations focused on devil worshiping, the occult and Damien Echols. Misskelley was her entree to Damien; he was a friend of both Vickie and Damien.

At trial, Vickie described her motivations for "playing detective."
[Misskelley lawyer] Dan Stidham: You testified that you were going to play detective in this case?
Hutcheson: I decided that on my own. Those boys I loved, and I wanted their killers caught.
Stidham: Did that thirty thousand dollar reward have anything to do with your decision?
Hutcheson: No. It had nothing to do with it.
Stidham: Did you ever tell anybody that you were going to get that reward?
Hutcheson: Not to my knowledge, no. [Victoria Hutcheson testimony, Misskelley trial]

Stidham attempted to put on a witness, Rhonda Dedman, who said that Vickie Hutcheson had spoken with her about her interest in the reward money. The prosecution objected as to hearsay and a long argument ensued. If Vickie had said that she could not remember whether she had spoken to someone about the reward, then Dedman's testimony would be hearsay and could not be used to impeach Hutcheson. If Vickie had said she didn't tell anyone about interest in the reward, the testimony would be allowed to impeach her. No one could remember Vickie's exact phrasing. Dedman proffered her testimony but did not testify before the jury. Interestingly, the punctuation added to the transcription makes a difference. "Not to my knowledge, no." is ambiguous as to whether she is saying she didn't remember while "Not to my knowledge. No." says that she did not talk to others about the reward.

In the days after the murders, Victoria discussed the crime with Misskelley.
"...Jessie Misskelley...he made mention after this came out that um he had saw Chris Byers over by the Beacon that morning on the morning that you know they were found and that Chris was in a pink shirt..." [Vickie Hutcheson statement, May 28, 1993]

Even in this instance, Jessie was wholly inaccurate. Chris Byers was in school on the morning and on through early afternoon of his disappearance and presumably dead by the morning of the discovery. He was described as wearing a white shirt in the missing children's reports and a pink shirt was not among the clothes recovered.

According to Vickie, Jessie went on to describe Damien. "Jessie told me about a friend of his named Damien and this friend drank blood and stuff he just kept going on and on about how weird he was and stuff so by the way you know the stuff that we knew the public knew that was coming out in the paper and stuff I just thought how they were killed was odd but you know maybe it was like a devil worshipping thing..." [Vickie Hutcheson, ibid]

At Vickie's request Jessie introduced her to Damien. Soon, she cozied up to him. She showed interest in the occult by placing books around her trailer that the police had provided her. She also admitted to making out with him. She tried to get him to confess on tape. The police would claim these tapes were unintelligible. Vickie claimed she listened to them at the Drug Task Force headquarters. [Vickie Hutcheson statement, June 24, 2004] In all her investigations, Vickie and the police seemed oblivious to the dangers that courting a supposed multiple child-murderer might bring to her or her eight year old son, a professed witness to the crimes.

On May 19, a night with no moon, she stated Damien drove her and Misskelley to an esbat - which she variously described as a meeting of witches, or satanists, or an orgy. She said that after participants started taking off their clothes, she asked Damien to take her home, which he did.

Misskelley later stated he was unaware that Vickie had told this to the police and denied going to any such meeting. Damien would also deny that such an event took place - or that he drove anywhere or had access to a car. Vickie would repeat the esbat story as testimony. Years later, she would call the incident "a complete fabrication." [Arkansas Times, October 7, 2004]

Notes from Vickie Hutcheson's May 27 interview. In the upper part, she passes
along the story that Robert Burch had admitted to the killings. The bottom part is
a list of those she alleged were in the cult. In Misskelley's early police interviews
he said he had heard that Burch and Echols had committed the crimes.

June 2nd and 3rd.

On June 2nd, Vickie Hutcheson took and passed a police polygraph - although none of the questions were related to her trip to the esbat. The police decided it was time to talk to Misskelley.

Also on June 2nd, the night before he confessed, Jessie stayed over at Vickie's house. There had been local burglaries and he was there for her protection.

At about 9 a.m. on June 3, 1993, Misskelley's father knocked at Hutcheson's door. He told his son that the police wanted to question him regarding the crimes. Detective Mike Allen drove Jessie to police headquarters.

Although Vickie Hutcheson named Jason Baldwin as part of the cult,
she stated she had never seen him. [Hutcheson interview, May 28, 1993]
The Timeline.

The police spelled out a timeline for the events that day.
10 to 11 a.m.

Jessie interviewed by Detective Mike Allen regarding the homicides.
The notes from Jessie's early interviews says that he heard Damien Echols and Robert Burch committed the crimes. Jessie stated he had never been to Robin Hood and denied any Satanic activity.

Misskelley pre-polygraph interview note. Detective Mike Allen.
11 to 11:30 a.m.

Jessie was read his rights. Detective Allen drove Jessie to ask his father for written consent to polygraph his son, a minor. According to Jessie (Jr.), "While we was on the way, he [Allen] told me if knew anything, that there was a $35,000 reward, and if I could help them out, we'd get the money." [Devil's Knot, p. 76] Misskelley, Sr. testified, "Mike Allen was, and Jessie was joking about the, he said, forty thousand dollar reward. He said if Jessie, if they get a conviction out of this that Jessie would get the forty thousand dollar reward and he's gonna buy him a new truck. And Jessie's laughing and said 'No I'm not either.' He said 'I'm gonna buy my daddy a truck and I'm gonna take his old one.'" [Jessie Misskelley, Sr., Misskelley trial] Detective Allen testified that he did not remember speaking to them about a reward.
11:30 a.m. to 12:30 p.m.

After Jessie was read his rights again, the first of three polygraphs began. According to Jessie's recollections, the polygrapher, Detective Durham "insisted that his polygraph machine could read minds and that it could if what was in their minds was different from what they said. 'I didn't know what was going on,' Jessie said. 'Because how could my brain be telling him that I was sitting there lying? It got me confused. Then he stood up and he was talking. He kinda spit on me. I don't know if it was on purpose or not, cause he was yelling when he did it." [Devil's Knot, p. 78]

Detective Ridge's notes regarding Misskelley's polygraph.
Approximately 12:30 p.m.

The polygraphs and post-polygraph interview are completed. Durham declared to the other detectives that Jessie was "lying his ass off."
12:30 to 2:44 p.m.

For the next two hours Misskelley was interviewed aggressively by Inspector Gitchell and Detective Ridge. Jessie described what went on. "I kept telling Gary Gitchell I wanted to go home. He said I could go home in a minute, then he kept asking me the same questions, over and over again. From that point it just got rougher on down. They asked me, how did I know so much about the murder if I didn't do it? I kept telling him I didn't know who did it - I just knew of it- what my friend told me. But they kept hollering at me. [snip] I had to go through the story again until I got it right. They hollered at me until I got it right. So whatever he was telling me, I started telling him back. But I figured something was wrong, 'cause if I'd a killed 'em, I'd a known how I done it." [Devil's Knot, pp. 78-9] None of the interrogation during this time was recorded.

The police notes from this time period include the following.
Misskelley, Echols and Baldwin (and others) were part of a Satanic cult.

These meetings included orgies.

Baldwin called Jessie the night before the murders and said they were going to hurt some boys.

Echols had been stalking the victims and had a photo of the three.
Gitchell drew a diagram, a circle. Inside the circle were three dots, outside, Xs. According to Jessie, "Gitchell pointed to the dots and said, 'This is you, Damien, and Jason. The Xs are police all around you. You can be in the circle or out.' I said I wanted to be out.'' [Devil's Knot, p. 79]

Gitchell then showed Misskelley a photograph of victim Christopher Byers on the autopsy table. Jessie misidentified the photo as "the Moore boy." He was covered to his neck by a sheet. The photo had a profound effect.
Gitchell: During the course of the interview with Jessie Misskelley, myself and Ridge were present in the room. I walked out of the room for a moment to get this picture and along with a small cassette recorder and a tape that I put into the recorder. I first wanted to show him this picture just to see what kind of response I would get from that. [snip, entering the photograph into evidence.]
Fogelman: After you showed him the picture, did you get some kind of response?
Gitchell: Yes, I did.
Fogelman: What kind of response did you get?
Gitchell: He immediately went back into the chair, and he just grasped the picture and kept holding it. As a matter of fact, he wouldn't let go of the picture. He would not take his eyes off the picture, and I even had to take the picture from his hand and lay it on the desk. [Gitchell testimony, January 13, 1994 hearing]

It is the policy of this site to not show photos of the injuries of their victims. According to the Byers autopsy, Misskelley would have seen scratches, abrasions, a laceration and contusions:
Mouth.

Between nose and upper lip a 1/8" semi-lunar abrasion, a 1/4" abrasion on lateral lower lip, a 1/8" abrasion on midline of lips. A 3/16" laceration on left upper lip.

Upper face, forehead, nose and eyes.

A 3/16" abrasion on superior aspect of bridge of nose. Two abrasions above left eyebrow, 1" and 3/4". 1/2" x 1/2" contusion on right eyelid. 1/8" abrasion adjacent to medial aspect of left eye. 1/8" abrasion adjacent to lateral aspect of left eyebrow. 3/4" old scar on right forehead. 1/4 inch old scar adjacent to the bridge of the nose.

Cheeks, jaw.

Two 3/16" circular abrasions on left zygomatic region and 1/4" by 1/8" abrasion below.

Right ear.

Abraded and contused

. Left ear.

Contused. In front of left ear, five haphazardly oriented abrasions from 5/16" to 1 3/4".

Neck.

Few scattered abrasions, left side.

[Autopsy, Christopher Byers. Note, some items were edited out because they referred to posterior views.]
After have been shown the photograph, according to the police, "Jessie stated that he didn't want to be a part of this that Damien and Jason killed he did not. Will think about taking a polygraph test [none was taken]. I left room at which time Jessie informed [star] Gary Gitchell of his being present during time of murders. Witnessed murder by Damien and Jason." [Ridge notes, Misskelley interview, June 3, 1993]

Ridge left the room and Gitchell remained alone with Jessie for about 20 minutes. According to Ridge, Jessie was given time to compose himself. At 2:44 p.m., Jessie's first taped confession began.

Jessie's taped confessions.

I have researched this case for 10 years. An early turning point in my evaluation of the case was reading Misskelley's transcribed confessions. It seemed clear to me that Jessie was unable to demonstrate knowledge of the crime. He came across as a student who had no clue about a subject and desperately floundered until the teacher filled in the details. And, for Jessie, the police did fill in the details. Sometimes this was in the form of statements.
Ridge: Okay, now when its going on, when it's taking place, you under... you saw somebody with a knife. Who had a knife? [Misskelley's first taped confession, June 3rd, 1993.] [To this point there had been no mention of a knife at the crime scene.]
Gitchell: Uh, alright you told me earlier around seven or eight. [Misskelley's second taped confession, June 3rd, 1993. There is no note that Jessie had said the crime was at seven or eight.]
Ridge: ...and you know where the little creek is that goes out to the expressway, and it doesn't have a lot of water in it, but it's got some water in it, and it's flowing through there... [snip] ...we're going to correct that even further, that's the east side, Memphis side is the east side and you were standing at the top of the bank on the west side... [Misskelley's first taped confession, June 3rd, 1993. Jessie had made no statements to this point describing the interior of the woods.]
The injuries. By showing Misskelley a photo of Christopher Byers, the police presented a picture of a victim with multiple bruises and a 3/16 inch long laceration on his face. Misskelley would go on to describe the victims as being beaten and one having a cut on his face.

Sometimes Jessie was presented with information in the form of a question in which Jessie had only to agree with the police version.
Gitchell: Did you ever use, did anyone use a stick to hit the boys with? [ibid] [Sticks had not been brought up before this.]
The victims were tied up.
Ridge: Okay, when you came back a little bit later, and all three boys are tied? [ibid] [Jessie had not mentioned the boys were tied up - and he had said that he had left, not that he had come back.]
The victims were in the water.
Gitchell: Did you ever see the boys in the water?
Misskelley: Uh, yep, down by the water.
Gitchell: Alright, how did the boys get in the water?
Misskelley: They um, pulled pulled them in there, to the water. [Misskelley's second taped interview, June 3, 1993. Misskelley had previously said the victims did not get into the water.]
One victim was castrated and had his penis skinned. [Misskelley had said a victim was cut on the bottom.]
Gitchell: Now you're talking about bottom, do you mean right here?
Misskelley: Mm-hmm.
Gitchell: In his groin area?
Misskelley: (overlapping) mm-hmm.
Gitchell: Okay
Ridge: Do you know what his penis is? [Misskelley's first taped interview, June 3, 1993]

Gitchell went on to testify that Misskelley did the pointing even though Gitchell was saying "here" - a statement that is meaningless without Gitchell pointing.
Gitchell: He was pointing at his penis and saying he was cut on the bottom. So we were clarifying what it is he was talking about.
Stidham: He was doing the pointing?
Gitchell: Yes, sir, he was.
Stidham: You were not doing the pointing?
Gitchell: No, sir. [Misskelley trial pre-hearing, January 13, 1994]

Sometimes the police corrected Misskelley when he gave wrong information. Again he was presented with a photo of the victims and was asked to identify who was who.
Ridge: Alright, you got in front of you a picture, that was taken out of the newspaper I believe, it's got three boys and these are the three boys that were killed on that date in Robin Hood Woods, okay. Which one of those three boys is it you say Damien hit? The third picture which will be
Misskelley: Michael Moore
Gitchell: This boy right here,
Misskelley: Yeah,
Gitchell: Alright, that's uh the Byers boy,
Misskelley: Christopher
Gitchell: That's who you are pointing at?
Misskelley: Mm-hmm.
Ridge: If you read the captions, the grisly slain from left, 8 year old Michael Moore, Steven Branch and Christopher Byers. Okay, so you saw Damien strike Chris Byers in the head?
[Misskelley's first taped interview, June 3, 1993] [Note: Jessie hadn't said head or identified where the victim was struck.]

In spite of misidentifying photos of the victims twice, Jessie still insisted:
Gitchell: Ok, so you know them by, by name and face, well enough to call them by name?
Misskelley: Mm-hmm.

[Misskelley's second taped interview, June 3, 1993]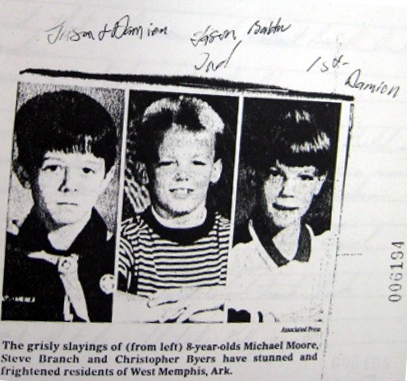 The newspaper photo shown to Misskelley during his confession. Even
though the caption named the victims, Jessie again misidentified Byers.

Although much of what Misskelley said in these taped confessions was in specific prompting by the police, Misskelley's singular admission of direct involvement in the crime appeared spontaneous. "Michael Moore took off running, so I chased him and grabbed him and held him, til they got there and then I left." [Misskelley first taped interview, June 3rd, 1993] This was presented that Misskelley was aware one victim was located separately from the others. Misskelley said that Moore ran toward the houses (he was found separately in the oppositie direction) and he said that he brought Michael Moore back, negating the idea that Moore was separate. "...he runs out, going out the, out the park and I chased him and grabbed him and brought him back." [ibid] As with many of Jessie's statements, the police chose the answer that matched the crime scene as Jessie demonstrating he had knowledge. In fact, Jessie gave a smorgasbord of answers that could suit virtually any interpretation - the three found together (brought him back), Moore found separately (grabbed him and held him until they got there and then left - although this doesn't explain what went on with the other two victims while Echols and Baldwin were "getting there"), Moore found in the direction of the houses, etc.

Even though his confession did not contain specific, relevant, accurate and verifiable supporting information, Misskelley was adamant about one thing.
Misskelley: I was there. [ibid]

Arrest.

The first taped statement begins "The place, we're in the Detective's Division, today's date is 6-3 of 93, the time now is 2:44 p.m." Oddly, Misskelley's arrest warrants are also stamped 2:44 p.m. and include a note saying that a taped statement had already been made. "This defendant was arrested on the authority of arrest warrant WS-93-1271 issued by Municipal Court Judge Pal Rainey. He was advised of his Miranda rights and stated he fully understood his rights and gave a verbal taped statement admitting his participation in reference to the above listed charge." [Misskelley Arrest Warrant, June 3, 1993] Jessie is not notified of his arrest on tape.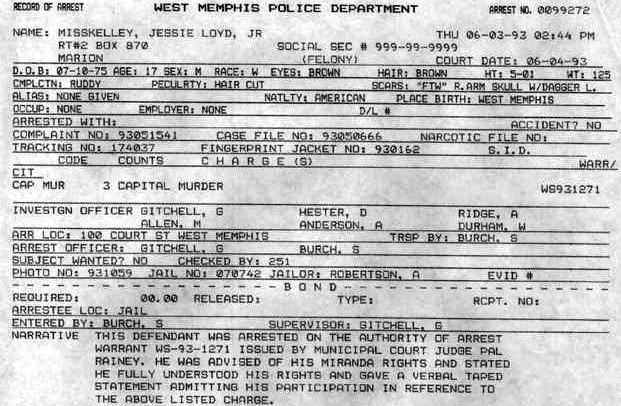 Misskelley arrest warrant (one of two), June 3rd, 2003, 2:44 p.m.

The Second Taped Statement.

A second shorter taped statement was taken that day. This was briefer and focused on the discrepancy in times from Misskelley's previous statements, the clothes they were wearing, whether the victims were held by the ears, along with some miscellaneous matters. In this case only Gitchell asked the questions. Again, the questions provided the details of the confession with Jessie agreeing to them, in some cases Gitchell had to lead Jessie to the answer over the course of several questions. In the police log this taping is listed at 3:45 p.m. with the word "incorrect" added. This taping probably did take place later, Gitchell estimated it at 5:00 p.m. The questions appear to address concerns put forward by Judge Rainey, matters to be cleared up before the search warrants were issued.
The time is 9:06 pm.
This is W. P. Rainey the municipal judge for West Memphis and Crittenden county I have just sworn Detective Ridge and Detective Gitchell in here I have just read the transcript of what is going to be statement made by Jessie M Misskelley on 6-3-93.
I have completed this statement and I had a question concerning what appeared to me to be some obvious discrepancy in time based upon the information provided to me tonight concerning the investigation I have questioned Officer Gitchell about this and he is at this time about to explain to me the discrepancies concerning Mr. Misskelley's initial statement that he was in the woods by Blue Beacon at noon on the day that the children were killed... [Judge Rainey, Search Warrant hearing, June 3, 1993]

Which Jason Baldwin?

During his confessions, Jessie described Jason Baldwin as the main perpetrator. He made the initial phone call. He had the knife (and thus performed the castration). There were two Jason Baldwins related to this case. Charles Jason Baldwin, pencil thin, lived at Lakeshore. He was Damien's immediate friend and was convicted for the crimes. Jason Howard Baldwin weighed in at about three hundred pounds and lived on Johnson, not far from Weaver Elementary. Although in other interviews the police did attempt to distinguish to whom the speaker was referring, no similar attempt was made during Misskelley's statement.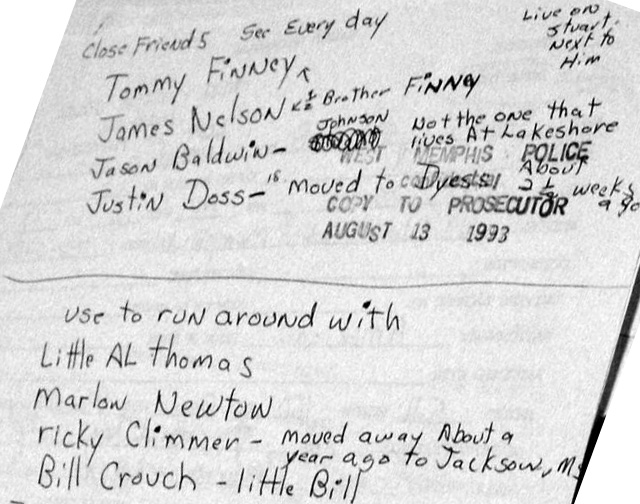 Robert Burch's friends.
[Police notes, Burch interview, May 15, 1993]
Misskelley initially said
he heard Burch had committed the murders mimicking a statement from Vickie Hutcheson.
Vickie Hutcheson had identified Burch as a member of the cult - along with Jason Baldwin.
Burch was a friend of the Jason Baldwin who lived on Johnson Street, not the one who was arrested.
Also on this list, Ricky Climer [not Climmer] was the only "other" cult member that Ridge testified
as to having interviewed.

In another instance of cult members being identified, Probation officer Steve Jones described a conversation with Garrett Schwarting who listed Jerry Nearns, Jessie Misskelley and Jason Baldwin.
Garrett Swording also talked about Nearns belonging to a cult where they were sacrificing cats and that Jessie Miskelly and Jason Baldwin were also members in this group. [Steve Jones, notes to the police, June 10, 1993]

Nearns, however, was friends with the other Jason Baldwin.

Jerry Nearns describes his friends, including the other Jason Baldwin.
Roger Connelly [Conlee/Conley his name is spelled in various ways] was on Jerry Driver's list of cult members.

Do I believe Jessie was referring to the other Jason Baldwin in his confessions? Only indirectly. Jessie's confessions mimicked Vickie Hutcheson's description of the rumored suspects (Burch and Echols) and the cult and its members (Burch, Echols and Baldwin). However, Vickie had never met Damien's friend Jason Baldwin and she had probably included him in the cult by confusing Damien's friend with the Jason Baldwin who was a friend of the rumored killer and cult member, Burch.

More detailed analyses and descriptions of Jessie's taped confessions are discussed in greater detail on other pages. [1],[2]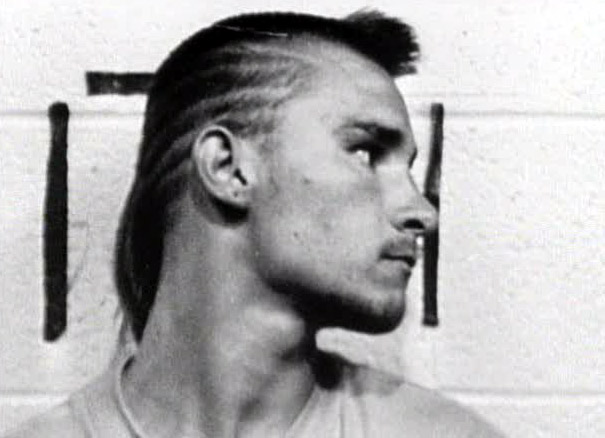 Misskelley at the time of arrest.

To Be Continued in, Misskelley's Many Confessions, Part Two